Product Name

Manual shield box
Product Model

MS80180/800(W)*850(D)*1800(H)
Product Number

60.00.001.1150
Product Description
MS80180 is an economical manual cabinet shielding box, suitable for building modules, terminal testing solution platform for smart phones, WI-FI, Bluetooth, smart grid equipment, automotive electronics, drones, smart home and other fields. The shield box is made of high-quality large-scale plate laser CNC cutting, sheet metal molding, electroplating, electrostatic spraying paint, assembly and commissioning, aging, testing and other more than a dozen strict process, with high shielding effectiveness, reliable structure, stable performance The advantages. Filter selection can be based on the actual needs of the customer, configure the appropriate I / O data interface, RF interface, or finalize the development of non-standard communication interface.
Product Appearance

Product Features
◆ The 800(W)*850(D)*1800(H) working size meets most of the testing requirements for smart mobile terminals on the market.
◆ The use of a new type of wave-absorbing material minimizes the reflected signal in the box and reduces the chance of false detection due to the environment.
◆ The complete communication interface design allows you to build a test platform that is easier and faster.
Technical Specifications
| | |
| --- | --- |
| Working frequency(GHz) | 0.8~3 |
| Shielding effect | ≥65dB@2.4GHz |
| Interface type | VGA、DB9、DB25、USB2.0、USB3.0、SMA、RJ45、BNC、RCA、DC、AC、optical fiber、HDMI、AV3.5, etc. (Could be customized and optional) |
| Numbers of filters | 12 pcs |
| Control method | Manually |
| Working temperature(°C) | Normal temperature work |
| Internal dimensions(mm) | 800(W)*850(D)*1800(H) |
| Appearance dimension(mm) | 960(W)*1120(D)*2090(H) |
| Weight(kg) | About 200 |
| Appearance of color | Computer gray (can be selected according to customer requirements) |
Appearance structure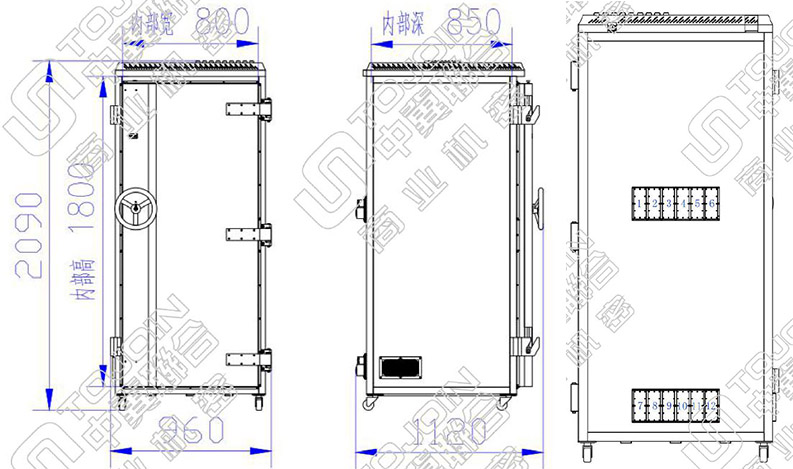 Note: The filter can be combined and selected according to customer needs.