Product Name

Automatic shielding box
Product Model

SD4345-C(standard)
Product Number

60.00.102.0180
Product Description
SD4345-C(Standard) is an economical pneumatic single-layer shielding box, which is suitable for building modules and terminal tests in smart phones, WI-FI, Bluetooth, smart grid equipment, automotive electronics, drones, smart homes and other fields. Solution platform. The shield box is made of high-quality large-scale plate laser CNC cutting, sheet metal molding, electroplating, electrostatic spraying paint, assembly and commissioning, aging, testing and other more than a dozen strict process, with high shielding effectiveness, reliable structure, stable performance The advantages. Filter selection can be based on the actual needs of the customer, configure the appropriate I / O data interface, RF interface, or finalize the development of non-standard communication interface.
Product Appearance

Product Features
The large working size of 433*440*313 meets most of the testing requirements of smart mobile terminals on the market.
The use of a new type of wave-absorbing material minimizes the reflected signal in the box and reduces the chance of false detection due to the environment.
The complete communication interface design allows you to build a test platform that is easier and faster.
Reliable safety protection measures, high sensitivity magnetic ring sensor and photoelectric sensor double protection.
Support RS232 serial communication command control, support PLC online programming control.
Technical Specifications
Working frequency(GHz)

0.8~8

Shielding effect

≥70dB@2.4GHz/5.8GHz

Interface Type

VGA,DB9,DB25,USB2.0,USB3.0,SMA,RJ45,BNC,RCA,DC,AC,optical fiber,HDMI,AV3.5, etc. (Could be customized and optional)

Numbers of filters

4 pcs

Control method

Touch switch control
Compatible with RS232 communication instructions
PLC online programming control (option)

Safety protection measures

Magnetic ring, light sensor dual protection, ensure operational safety

Working temperature(℃)

Normal temperature work

Working size(mm)

433(W)*440(D)*313(H)

Appearance dimension(mm)

540(W)*562(D)*395(H)

Weight(Kg)

About 25

Appearance of color

Beige (according to customer requirements)
Appearance structure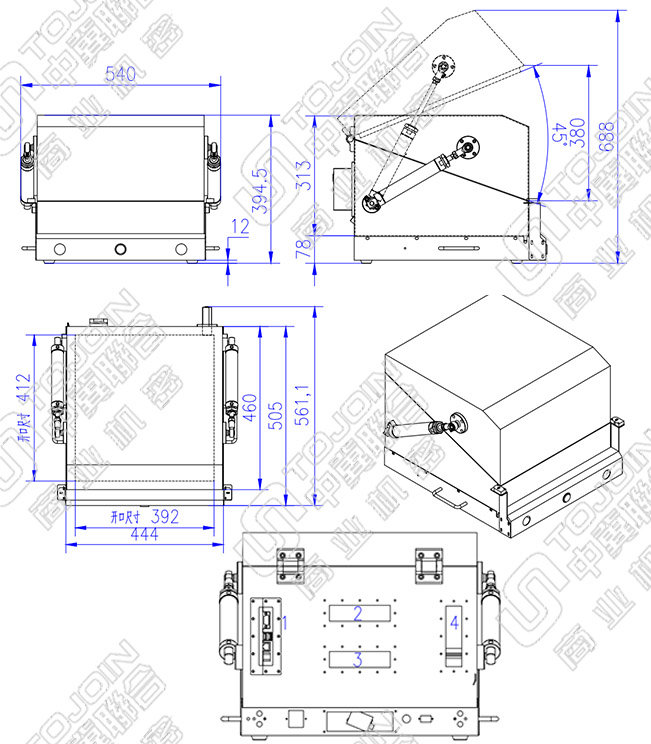 Note: The filter can be combined and selected according to customer needs.