Product Name

Drawer type shield box
Product Model

AS4560 / 400(W)*600(D)*200(H)
Product Number

60.00.102.1170
Product Description
AS4560 is a drawer type automatic shielding box. It is suitable for the wireless testing of the semi-finished products of the set-top box of the router, and has two modes of manual and serial automatic operation, which can be applied to the application reform of the factory automation test system. The shielding box adopts laser CNC cutting, sheet metal forming, electroplating and static electricity requirements of high-quality large-scale factory plates, and configures the corresponding I/O data interface, radio frequency interface, or finalized and developed non-standard communication interface.
Product Appearance

Product Features
◆ Drawer type switch door method: It is conducive to implement automated test with robot.
◆The 400*600*200 large working size meets most of the testing requirements of smart mobile terminals on the market.
◆The use of a new type of wave-absorbing material minimizes the reflected signal in the box and reduces the chance of false detection due to the environment.
◆The complete communication interface design allows you to build a test platform that is easier and faster.
◆Support RS232 serial communication command control.
◆Single cavity design, more compact box structure.
Technical Specifications
Working frequency(GHz)

0.8~6

Shielding effect

≥75dB@2.4GHz/5.8GHz

Interface Type

VGA,DB9,DB25,USB2.0,USB3.0,SMA,RJ45,BNC,RCA,DC,AC,optical fiber,HDMI,AV3.5, etc. (Could be customized and optional)

Numbers of filters

7pcs (tail 4 side 3)

Control method

Touch switch control
Compatible with RS232 communication instructions

Safety protection measures

Magnetic ring sensing protection ensures safe operation

Working temperature(℃)

Normal temperature work

Internal dimension(mm)

400(W)*600(D)*200(H)

Appearance dimension(mm)

450(W)*650(D)*250(H)

Weight(Kg)

About 35

Appearance of color

The main body is beige (can be selected according to customer requirements)
Appearance structure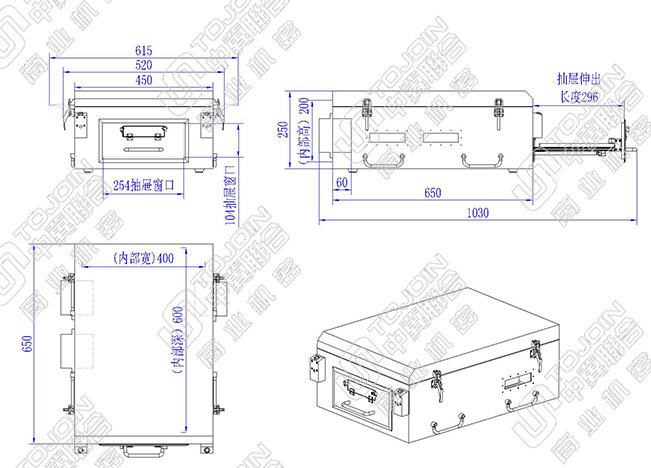 Note: The filter can be combined and selected according to customer needs.